What is a Green Team?
---
The formation of a "Green Team" is the first step in organizing efforts to pursue a more sustainable community. Green teams leverage the skills and expertise of team members to develop plans, implement programs, and assist with educational opportunities that raise community awareness and commitment to a better tomorrow, one community at a time. Such entities can go by any name, but the critical role they play is the same.
Creating a green team is the only mandatory action in the Sustainable Jersey certification program.
It does not matter what you call your green team — what matters is that your community is working together in a coordinated fashion to create a more sustainable set of goals, policies, and actions. The success of the community's sustainability efforts going forward depends on how well the entire community is included at the beginning of the process.
Green Team Resolution/Ordinance
Green teams can be established either by resolution or ordinance. If established by resolution, each time the town submits for certification it will need to provide a new resolution for the year it applies, or a proclamation from the mayor. If passed by ordinance, the town only needs to provide documentation on current members and activities.
Sample Green Team Ordinances
Sample Green Team Proclamation
Who should be involved?
---
The mayor and city council should formally establish a green team and appoint members by resolution or ordinance. Members of the green team could be appointed from municipal staff and departments, elected officials, and volunteer members of community boards and commissions. Below are some sample boards and commissions and the action areas they can contribute toward. Communities could also invite representatives from schools including educators, school board members, parent-teacher organizations, school staff, as well as students. Local businesses, chambers of commerce, academic institutions, civic organizations, faith-based groups, and community residents are also important partners in municipal sustainability efforts.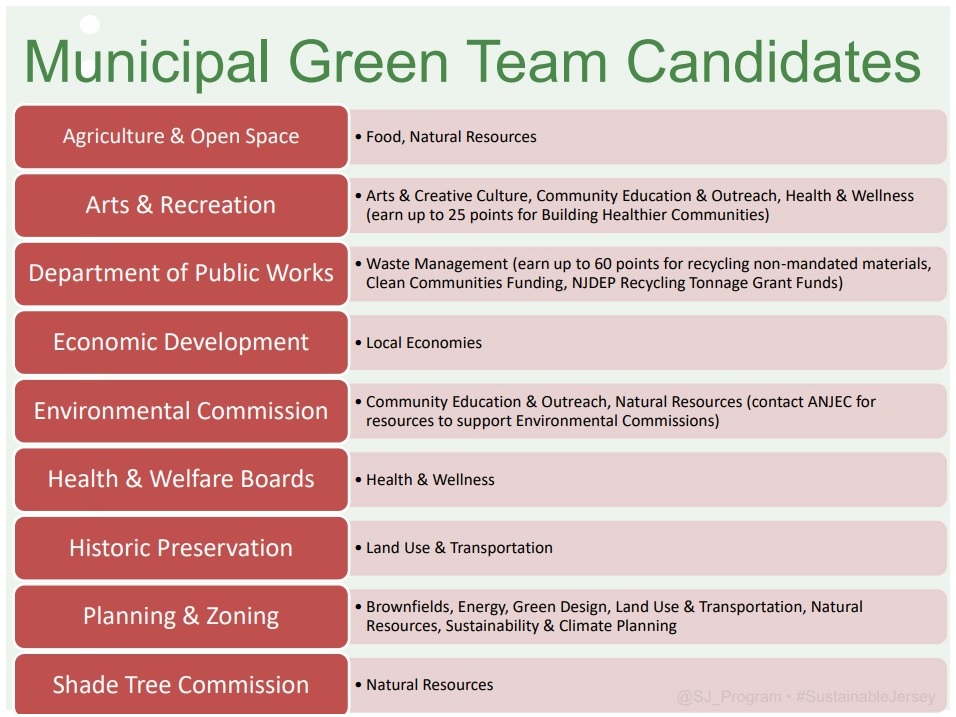 In diverse communities, especially ones that wish to improve the degree to which various demographics (race, income, age, etc.) are involved in civic life, the formation of the team is a prime opportunity to expand inclusion. Aspiring to create a green team that reflects the overall demographics of the town is the optimal goal. The creation of a green team allows communities to reach out and engage people from all community perspectives.
Can an Environmental Commission serve as the green team?
Yes. The municipal governing body can decide how it wishes to appoint the green team, which can be through an existing commission or group, or creating a new team.
Examples of Environmental Commissions serving as the green team are listed below. The link goes to the municipality's certification report, scroll down to the green team submission.
Is there a minimum or maximum number of green team members allowed?
No. It is entirely up to the municipality to determine the number of green team members. Some municipalities have a handful of members that work in cooperation with other groups, while others have upwards of 20. Municipality's with green teams or all sizes have been successful in the Sustainable Jersey program.
How long does it take to establish a team?
---
It will take approximately one to three months to identify, recruit, and appoint members to serve on the community green team. This does not include the time it might take to gain municipal approval to start a green team. The time-frame required for passing an ordinance is usually 2-3 months.
What are the costs and resources needed?
---
The initial costs to establish a Green Team are minimal. Municipal governments may incur costs for municipal staff time needed to recruit team members and create the appointment resolution. The Mayor and Council should specify the amount of municipal staff time available to support the work of the green team. Additional costs for municipal consultants (planner, engineer, attorney, sustainability consultant) may be incurred once the team begins implementing actions. The Council should identify funding available to support the work of the green team if possible. Team volunteers will contribute significant time and energy to the effort.
Resources to get you started