Sustainable Jersey is so happy to return to Atlantic City this year for the Sustainable Jersey Annual Luncheon -- the premier celebration for New Jersey's sustainability community. This gathering includes leaders in the sustainability movement representing state agencies, academic institutions, businesses and the over 463 New Jersey municipalities participating in Sustainable Jersey.
Highlights:
Pre-Luncheon Networking Session
10:30am – 11:45am
Luncheon and Ceremony
11:45am - 1:30pm
Conveyance of Special Awards
Recognition of the 2021 Sustainable Jersey Certified Communities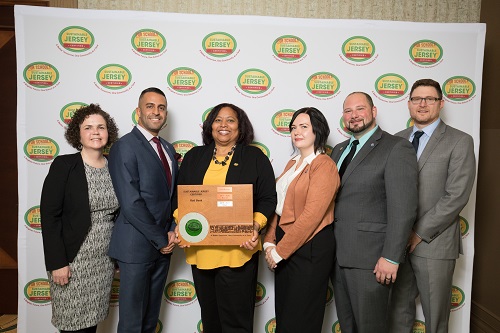 Red Bank receives Silver certification


Certifying municipalities should arrive early to have their group photo taken prior to the start of the luncheon. Pictures will be taken between 10:30am - 11:45am.


Registration Information
Cost: $35: Elected and appointed officials, public and non-profit employees, and green team members; $100: Other attendees
Payment Information: Payment can be made by PayPal, Credit Card, or Check. If paying by check, select this option on the registration page, and make the check payable to the address listed: Sustainable Jersey, P.O. Box 6855, Lawrenceville, NJ 08648.
Please note that tickets will be on sale until Monday, November 15 at noon. Tickets will not be available to purchase on-site the day of the event. Tickets are transferable, but not refundable.
Health & Safety Requirements
Masks are required for ALL attendees upon entry into Sheraton, except as necessary to consume food or beverage.
All participants will be encouraged to maintain distance and forgo handshakes and other forms of close physical contact.
Proof of full vaccination or a negative COVID test taken within 72 hours prior to the event is required for all attendees.
New Jersey League of Municipalities Conference
---
The Sustainable Jersey annual luncheon takes place on the first day of the New Jersey League of Municipalities Conference. You do not have to be registered for the conference to attend the Sustainable Jersey Annual Luncheon.
Sustainable Jersey Sessions at the NJLM Conference
The conference offers more than 100 sessions on a wide range of topics of importance to New Jersey municipalities including 9 sessions facilitated by Sustainable Jersey.
View Sustainable Jersey Sessions
You must be registered for the NJLM Conference to attend the conference sessions. Click HERE for NJLM Conference registration information.