Sustainable Business Leadership Award
---
This award recognizes New Jersey companies that demonstrate a significant commitment to the core sustainability principles of people, planet, and prosperity, along with strong support for values that the Sustainable Jersey program advances.
2019 Recipient: RPM Development Group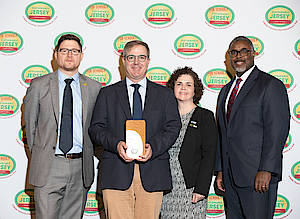 RPM Development Group has acquired and developed properties across the State of New Jersey for three decades. It is an outstanding example of how a developer can take sustainability and community responsibility seriously and contribute locally to improving the quality of life in New Jersey. RPM Development Group has a proven commitment to sustainability – from the first LEED Platinum multi-family building in the State of New Jersey to resident education programs that help ensure green amenities are properly used. RPM Development Group has shown a commitment that is embodied at every level of the firm – from project design to construction through the ongoing management. RPM Development has been recognized by the U.S. Environmental Protection Agency through its ENERGY STAR program as an outstanding partner in energy-efficient building and marketing.
Previous Sustainable Business Leadership Award Recipients
To view all Sustainable Business Leadership Award recipients since 2014, click here.