Mayor Art Ondish Leadership Award
---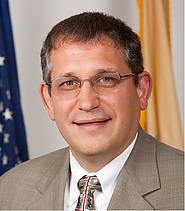 This award is given annually by Sustainable Jersey in memory of Mayor Arthur Ondish of Mount Arlington. He was a true leader and an original member of the visionary mayors who founded the Sustainable Jersey program. He was a key thinker and doer during the growth of the Sustainable Jersey movement. In the early days, he spent countless hours meeting with local officials to promote Sustainable Jersey and was instrumental in the program's acceptance in rural parts of New Jersey.
This award recognizes an outstanding leader of a Sustainable Jersey certified town who has provided ideas, policy support, and the necessary resources for the green team to achieve significant success towards sustainability at the local level.
2021 Recipient: Honorable Ras J. Baraka, Mayor, City of Newark
Under Mayor Baraka's leadership, Newark has made sustainability a priority. Mayor Baraka appointed a Chief Sustainability Officer to develop and implement the City of Newark's Sustainability Action Plan. Mayor Baraka issued a directive to all department directors to incorporate sustainability priorities into their annual plans. The Sustainability Action Plan includes commitments for interdepartmental collaboration to make Newark cleaner, greener, healthier, more engaged and more prepared in the face of climate change. Sustainability commitments include actions related to litter and recycling, brownfields remediation, green infrastructure, urban forestry management, open space planning, inclusive development, idling enforcement, healthy homes, urban agriculture, climate planning, renewable energy and alternative fuels infrastructure, energy efficiency savings, and internships for young sustainability champions. The City of Newark City achieved Sustainable Jersey certification as part of the 2020 certification cycle at the silver-level with 375 points. View Newark's certification report here, and the Mayor's award acceptance remarks in the video below.
Previous Mayor Art Ondish Leadership Recipients
To view all Mayor Art Ondish Leadership recipients since 2016, click here.