Mayor Art Ondish Leadership Award
---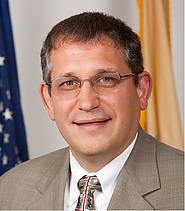 This award is given annually by Sustainable Jersey in memory of Mayor Arthur Ondish of Mount Arlington. He was a true leader and an original member of the visionary mayors who founded the Sustainable Jersey program. He was a key thinker and doer during the growth of the Sustainable Jersey movement. In the early days, he spent countless hours meeting with local officials to promote Sustainable Jersey and was instrumental in the program's acceptance in rural parts of New Jersey.
This award recognizes an outstanding leader of a Sustainable Jersey certified town who has provided ideas, policy support, and the necessary resources for the green team to achieve significant success towards sustainability at the local level.
2020 Recipient: Mayor Anthony Talerico, Jr., Eatontown
Since Anthony Talerico, Jr. was elected mayor in 2019, Eatontown was the first municipality to pass an ordinance using the Complete and Green Streets for All model policy. Mayor Talerico, Jr. is actively involved in making Eatontown's roads safe for all users - drivers, cyclists, pedestrians and those with disabilities, and improving the connectivity in its existing neighborhoods.
Reaching beyond his borders, Mayor Talerico, Jr. hosted a meeting with ten other municipalities in Monmouth County to discuss the opportunity to group purchase energy for residents with significantly higher renewable energy content than what is required by New Jersey. This initial effort has materialized into the Monmouth Renewable Government Energy Aggregation Collaborative, with eight communities participating.
Previous Mayor Art Ondish Leadership Recipients
To view all Mayor Art Ondish Leadership recipients since 2016, click here.