Vision
---
To achieve a sustainable New Jersey, one community at a time.
Mission
---
Empower New Jersey communities to build a better world for future generations with the tools, training and financial incentives necessary to pursue critical sustainability initiatives.
Overview
---
Sustainable Jersey is a network and movement of municipalities, schools and school districts working collectively to bring about a sustainable New Jersey. Acting with state agencies, non-profit organizations, foundations, academia and industry, Sustainable Jersey researches best practices for what communities could and should do to contribute to a sustainable future. The program culminates in a prestigious certification award to municipalities and schools that have documented meeting a set of rigorous standards.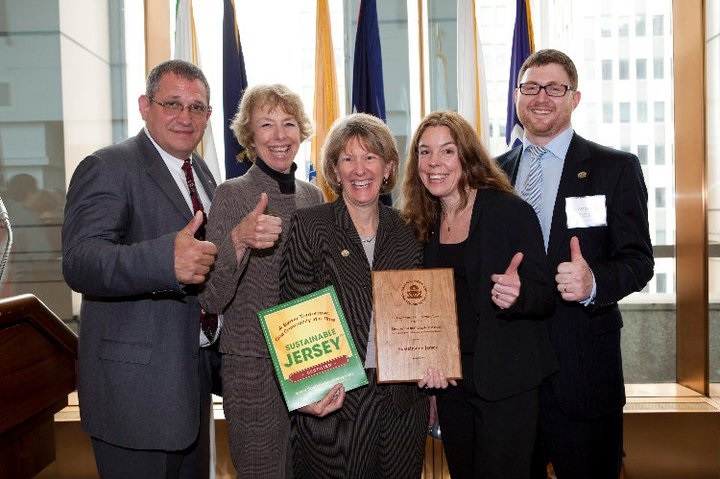 Since the launch of the Sustainable Jersey municipal program in 2009 and the Sustainable Jersey for Schools program in 2013, participants have successfully implemented and documented over 9,000 discrete actions from our list of best practices. Over five-million dollars in grants have been awarded to municipalities, schools and school districts in the program. Sustainable Jersey provides tools, training and financial incentives to support communities as they pursue sustainability programs. By supporting efforts to reduce waste, cut greenhouse gas emissions, educate for sustainability, stimulate local economies, increase resiliency and progress toward an equitable society, Sustainable Jersey is empowering communities to build a better world for future generations.
History
---
Sustainable Jersey began as an informal partnership that has evolved and been shaped by the contributions and perspectives of many. In 2006, The College of New Jersey was funded by the Geraldine R. Dodge Foundation to create a "Sustainable Communities Leadership Network." The network was tasked with supporting municipal progress toward sustainable development by identifying best practices, facilitating peer to peer learning, developing metrics to judge performance and providing direct technical support and training. Around the same time, a group of mayors at the New Jersey League of Municipalities (NJLM) was coming together to form a "green mayors" group that would work to support similar activities. Concurrently, the New Jersey Department of Environmental Protection and the New Jersey Board of Public Utilities were also working on sustainable community related initiatives.
The four parties agreed to come together under one banner and began to collaborate on the program that eventually became Sustainable Jersey. After more than a year of intensive work, the Sustainable Jersey program took final form and was launched in February of 2009. In Winter 2011/2012, Sustainable Jersey evolved from a partnership into a 501(c)(3) non-profit organization with a Board of Trustees.
Sustainable Jersey for Schools
In 2014, Sustainable Jersey and the New Jersey School Boards Association (NJSBA) launched Sustainable Jersey for Schools, designed specifically for New Jersey's public-school districts and public charter schools. In 2019, Sustainable Jersey celebrates its ten-year anniversary with a year-long program of special events to educate and engage the Sustainable Jersey community as we celebrate how far we have come and look into the future.