Sustainable Jersey Receives 2016 Leadership Award from American Planning Association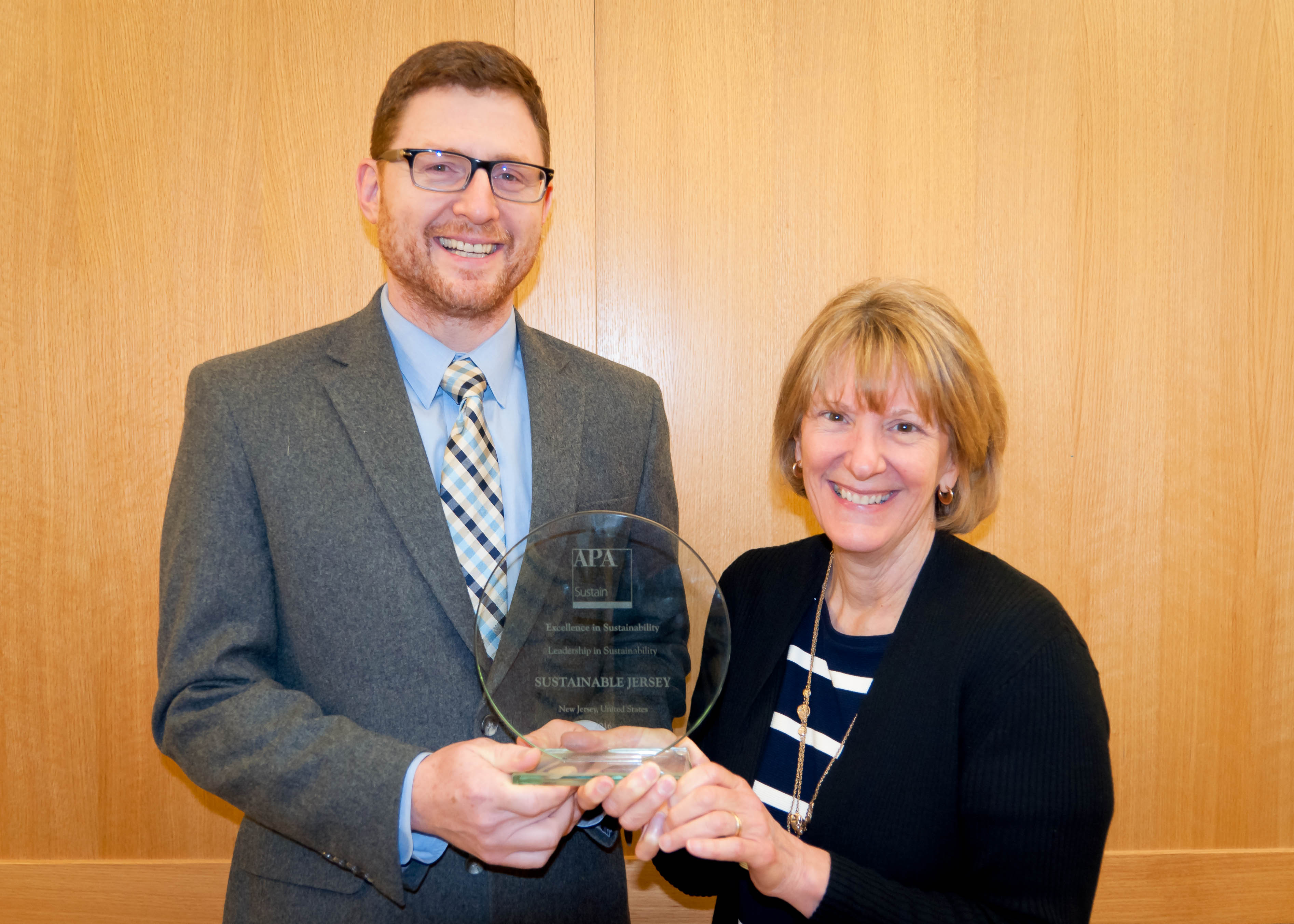 The American Planning Association's Sustainable Communities Division (SCD) announced the third annual Awards for Excellence in Sustainability at the National Planning Conference in Phoenix, Arizona. Sustainable Jersey received the Leadership in Sustainability award and was selected from a group of national and international applicants. The awards honor project, plans, policies, individuals, and organizations whose work is dedicated to supporting and growing sustainable communities.
In partnership with the International and Urban Design and Preservation Divisions, the 2016 Awards for Excellence in Sustainability have expanded to an international audience, with nominations coming in from across the globe. The winners represent extraordinary achievements in eight Sustainable Planning categories. The categories and winners are:
Leadership in Sustainability: Sustainable Jersey, New Jersey, United States

Sustainable Building Project Award: Buenos Aires City Government, New Government House, Buenos Aires, Argentina

Sustainable Park, Recreation, or Open Space Project Award: Amigos de los Rios, Emerald Necklace Plan Phase 2, Los Angeles, California United States

Sustainable Policy, Law or Plan Award: Cities of Brampton, Richmond Hill, and Vaughn, Measuring the Sustainability Performance of New Development in Brampton, Richmond Hill, and Vaughn, Brampton, Vaughan, and Richmond Hill, Ontario, Canada

Sustainable Development Project: Denver Regional Transit District, Denver Union Station, Denver Colorado, United States

Green Infrastructure or Transportation Project: City of Tualatin/Cardno, Tualatin River Greenway Shared Use Path, Tualatin, Oregon, United States

Sustainable Urban Design, or Preservation Plan or Project: City of Alexandria/Smith GroupJJR, Eisenhower West, Alexandria, Virginia, United States
"Sustainable Jersey has been fundamental to the evolution of sustainability planning in New Jersey," said Randall Solomon, co-director of Sustainable Jersey. "The program has improved awareness of sustainability and fostered the creation of a vibrant sustainability movement while actively engaging stakeholders in developing statewide and long-term outcomes that define and track progress toward sustainability goals." 
"Sustainable Jersey is proud to receive recognition on the international stage. We share this award with the many state, county, municipal and nonprofit organizations that have contributed their time and talents to help create this amazing program," said Donna Drewes, co-director of Sustainable Jersey. In 2015, Sustainable Jersey held the first convening of state sustainability programs in the United States. Representatives from 12 states travelled to New Jersey to begin a multi-state conversation. Sustainable Jersey subsequently released a study entitled "Statewide Change, One Community at a Time: A Comparative Study of Collaborative State-Local Sustainability Programs" in April 2016.  
On June 15, 2016, Sustainable Jersey is hosting the 2016 New Jersey Sustainability Summit which brings together more than 300 attendees, 50 speakers and the release of the 2016 New Jersey Sustainability State of the State Report. Register: http://bit.ly/2016SummitRegister.
Categories:
Media Releases
Home Page News