Eligible Applicants
---
To be eligible to apply for a grant in this cycle, the following requirements must be met:
The applicant must be a New Jersey municipality or school district.
The applicant must be at least registered in its respective Sustainable Jersey program.
Multiple Grant Applications
Can I Apply for More than One Grant?
Applicant are only eligible to apply for one grant. The application can be for any of the available funding amounts.
Previous Grant Recipients

If you received a Sustainable Jersey grant in program year 2021 or earlier, refer to the chart below to determine if you are eligible to apply. Contact Kaitlyn Vollmer at grants@sustainablejersey.com or 609-771-3189 if you have questions about your eligibility.

&nbsp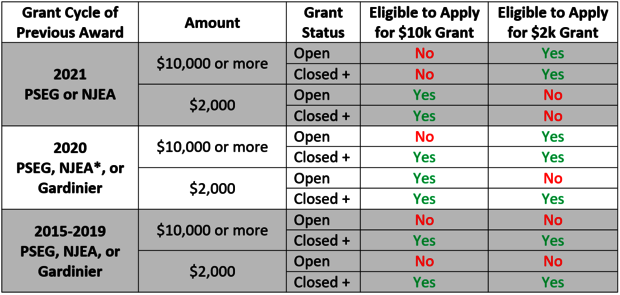 &nbsp
+ A grant is closed when the final report has been submitted and approved by Sustainable Jersey
* Applications are due at the end of October but are not awarded until January of the following year
Eligible Projects
---
Energy Projects Only
Grant proposals must focus on either: existing building energy efficiency (excluding lighting-only upgrades); electrification; new construction and significant renovation projects; renewable energy; energy reliability/resilience; transportation efficiency and electrification (EV charging stations are not eligible and EV purchases have limited eligibility); studies, plans and engineering or other energy-related projects.
The Gardinier Environmental Fund is particularly interested in projects that take an innovative approach to meeting sustainable energy objectives, such as building electrification, advanced building management systems, fleet management software/telematics, or distributed energy resources that combine renewable energy generation with energy storage onsite. Grant funding can also be used to support projects that aid municipal efforts to achieve a Sustainable Jersey Gold Star for Energy and are innovative models for the state.
Listed below are a variety of project categories that could significantly improve energy efficiency, promote the use of renewable energy sources, electrify transportation, and reduce greenhouse gas emissions.
Energy Efficiency and Electrification. Projects that improve the energy efficiency and electrify existing buildings owned and operated by the municipal government or school district, as well as projects that promote energy efficiency and building electrification in the wider community are eligible. For building upgrades, the grant must be used in combination with utility incentive programs or NJCEP incentives to cover the municipal/school district cost-share. Incentives from utilities and NJCEP include equipment upgrades and/or replacement for HVAC systems, food service equipment, and other efficiency measures for both existing buildings and new construction projects. Innovative options for municipal or school district buildings such as green roofs, cool roofs, or the use of innovative technologies or design elements to improve the energy efficiency of the building are strongly encouraged. Projects that retrofit buildings to become fully electric are also strongly recommended. This includes replacing the use of gas-fueled appliances, water heaters, and furnaces with electric appliances, water heaters, furnaces, or ground source and air source heat pumps such as ductless mini split systems. The grant must be used in combination with NJCEP funds or other incentive programs available.
New Construction/Gut Rehab Projects. New construction or major renovations provide significant opportunity to design for energy efficiency. Funding can assist in the design and construction phase for new buildings or major reconstruction projects that will result in energy efficiency higher than current code requirements. Projects are encouraged that demonstrate fully electric buildings and/or strive to be built to Zero Energy, Passive House, LEED Gold or Platinum, or Living Future standard. Proposed projects should be paired with NJCEP's New Construction/Gut Renovation incentive programs.
Renewable Energy. Projects that directly or indirectly promote the use of renewable energy are eligible. This can include installing solar on municipal or school property in an innovative way (such as to serve as the electricity source for electric vehicle charging stations); updating local zoning ordinances to be more solar friendly, streamlining permitting procedures for solar installations; training for municipal staff such as permitting, zoning, and code officials; educational outreach and incentive programs to increase adoption of solar by residents and businesses; planning for a community solar program; or implementation of a Renewable Government Energy Aggregation (R-GEA; also known as community choice aggregation).
Energy Reliability and Resiliency. Implementation of sustainable approaches to improved energy reliability and resiliency such as projects that would provide islanding capability for continued operation during a grid outage are eligible. Examples include: upgrades to existing solar installations to include on-site battery storage with islanding capability; Combined Heat and Power (CHP); fuel cell adoption; or planning for a town center microgrid.
Transportation Efficiency and Electrification. Projects that directly or indirectly promote transportation efficiency and electrification are eligible. Efficiency can include better fleet management, route optimizations, and idle reduction technology. While purchasing light duty passenger EVs or charging stations is not eligible for funding, assistance in purchasing medium- and heavy-duty vehicles (Class 4-8 vehicles) are eligible for Gardinier grants. These vehicles include: school, shuttle, and transit buses; garbage trucks; delivery/freight trucks; snow removal vehicles, and other mid-to-heavy duty vehicles typical for municipal and school fleets. Funding should be paired with funding/incentives available via NJDEP's Stop the Soot program or NJ EDA's NJ ZIP funding. Funding can also assist with bringing clean electric transportation options to the community through electric vehicle car sharing, as well as electric taxis, ride-hailing, and shuttle service programs. Funding for electric transportation programs should be paired with NJDEP's Stop the Soot eMobility program. Other eligible project examples include updates to municipal ordinances, parking policies, and guidance to encourage installation and use of charging stations; staff training such as for permitting, zoning and code officials; or community educational outreach or incentive programs related to increasing and supporting alternative fuel vehicle use.
Studies, Plans and Engineering. Grant proposals will be considered that support initial work for building energy efficiency and electrification, renewable energy and transportation efficiency and electrification projects, particularly plans, studies, or engineering for projects that are likely to advance into implementation. These studies could include (but are not limited to) an energy master plan for municipal or school district facilities, fleet inventory and transition plan, distributed energy resources (DER)/microgrid feasibility studies, or engineering documents for innovative energy efficiency work or solar projects.
Ineligible Projects
Projects that are not energy-related
Projects to upgrade lighting fixtures of any kind are NOT eligible for funding. This includes street lighting, stadium lighting, parking lot lighting, and other exterior and interior lighting. Direct Install projects for the replacement of HVAC equipment, boilers, etc. that also include lighting upgrades may be considered as long as they take advantage of applicable incentives.
EV charging station(s) installation projects are NOT eligible for funding. Applicants interested in installing EV charging stations should apply for NJDEP's "It Pay$ to Plug In" program or NJBPU's Clean Fleets EV Incentive program. Applicants may wish to check with their local electric utility for "Make-Ready" support for EV charging infrastructure (excluding the charging station itself).
The purchase of electric vehicles (except for Class 4-8 medium and heavy-duty vehicles) is NOT eligible for funding. Applicants interested in purchasing EVs may apply for funding from NJBPU's Clean Fleets EV Incentive Program. Applicants may wish to review Sustainable Jersey's Alternative Fuel Vehicle Procurement Guide and NJDEP's resources flyer.
Information on the above-listed incentive programs is available in Section M of the Application Information Packet.
---
Need Help Thinking of a Project?
View project selection ideas on the Application Tips page and/or view the Project Ideas section in the Application Information Packet.
---
Eligible Expenses
Staff stipends
Consultant/contractor service fees (e.g., for content expertise, marketing, and/or technology)
Equipment
Training and educational materials or related expenses
Project supplies
Promotional items including "give-aways" such as refillable water bottles, t-shirts, bags, etc., and incentives or awards such as prizes, gift cards, refreshments, etc.--should not exceed $1,000
Reasonable project signage costs recognizing Sustainable Jersey and the Gardinier Environmental Fund as the project funders. Learn more about sponsor recognition here.
Matching or in-kind contributions (including volunteer time) are encouraged, but not required.
Ineligible Expenses
Facilities and administrative (overhead) costs.
Reimbursement for a project underway or already completed. Efforts to be funded by the grant should not start until after mid-January 2022