Eligible Applicants
---
To be eligible to apply for a grant in this cycle, the following requirements must be met:
New Jersey municipality or public school district registered in the Sustainable Jersey or Sustainable Jersey for Schools Program.
The applicant has an active green team in accordance with the Sustainable Jersey action requirements.
Previous Sustainable Jersey grant recipient status.
Previous Grant Recipients
Previous Sustainable Jersey grant recipients are eligible to apply for these grants. However, previous grants must be closed or open grants must be up to date with the reporting requirements. For more information about closing out a grant or reporting requirements click here. The chart below provides a summary of previous grant recipient eligibility for this cycle.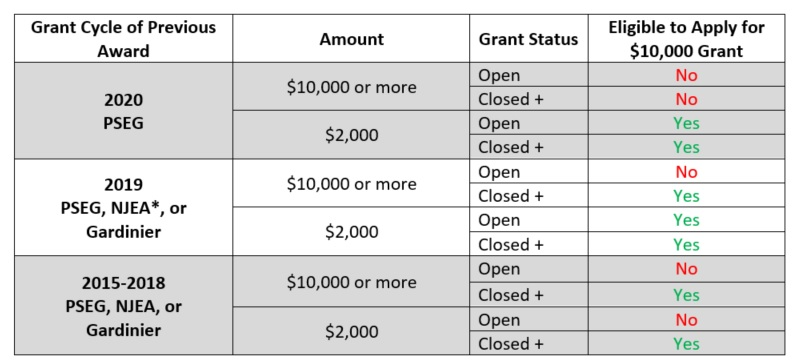 *Please note the 2019 NJEA school grants were awarded in February 2020 but are still considered 2019
Questions regarding eligibility? Contact Kaitlyn Vollmer at 609-771-3189 or grants@sustainablejersey.com.
Grant proposals must focus on energy conservation, energy efficiency, renewable energy, building electrification, energy reliability/resilience, transportation electrification/alternative fuel vehicles, or other energy-related projects. Other energy-related projects include engineering studies and/or business planning for innovative energy projects.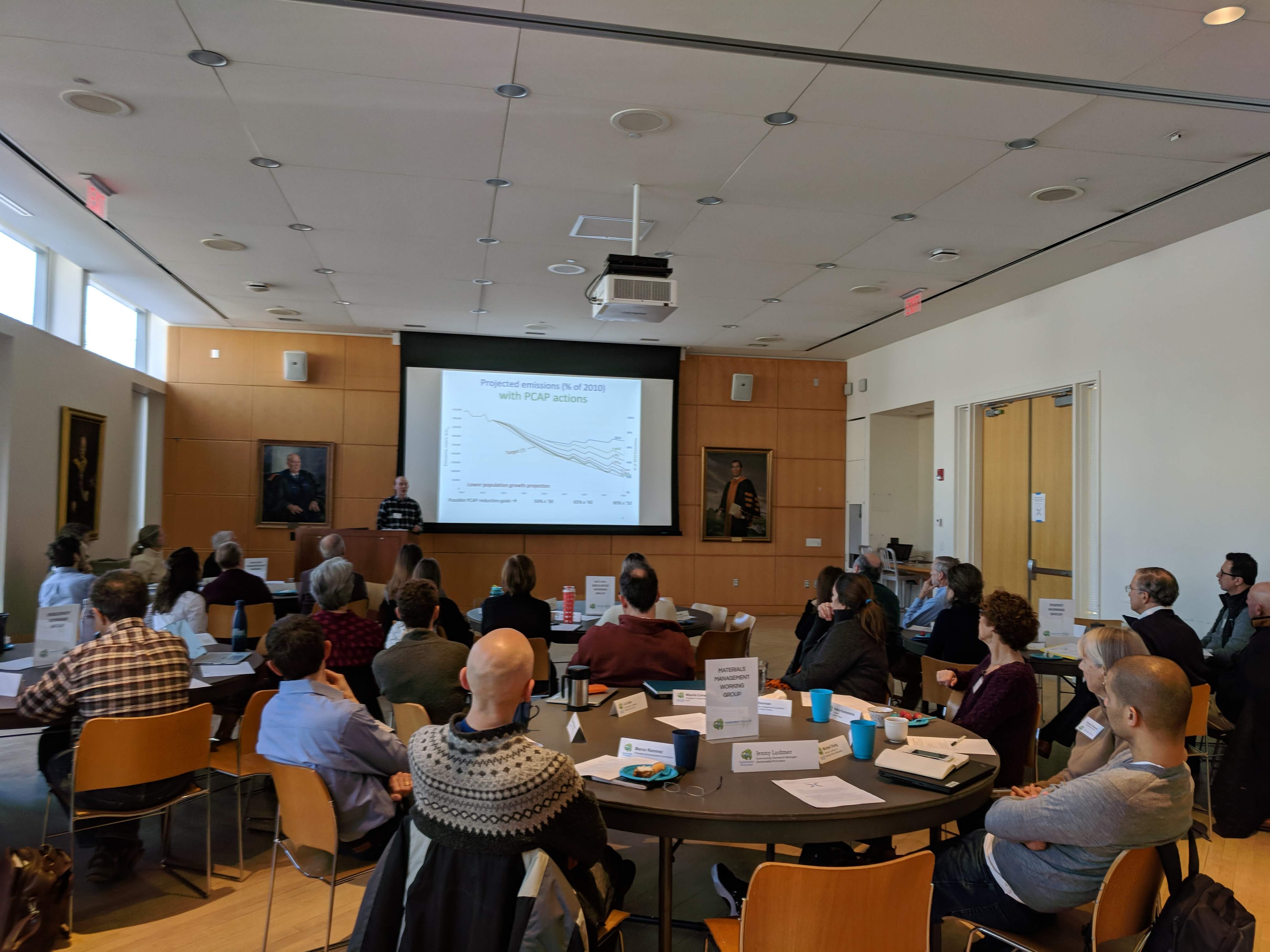 Princeton Community Solar Presentation
2018 Gardinier 10k Grant
The Gardinier Environmental Fund is particularly interested in innovative energy projects that take a comprehensive approach to meeting advanced energy conservation objectives, such as achieving zero-energy buildings.
Grant funding can also be used to support projects that aid municipal efforts to achieve a Sustainable Jersey Gold Star for Energy and are innovative models for the state. Learn more about project categories in the Application Information Packet here.
Energy Incentive & Grant Programs
Proposed grant projects that would be eligible for funding or rebates available from the New Jersey Board of Public Utilities Clean Energy Program (NJCEP), utility company incentive programs, or other state government grant, rebate, or incentive programs, must leverage these resources in addition to the Sustainable Jersey grant as part of the overall project budget.
The application will ask you to upload documentation of communications with applicable incentive and grant programs. See Section M in the Application Information Packet for a listing of NJCEP, NJDEP, and utility-sponsored incentive programs.
The availability of utility-sponsored incentive programs and how they relate to NJCEP programs varies by utility; please check with your local utility on current incentive programs. Questions regarding how to access existing incentive programs and the documentation required for the grant application can be directed to Nancy Quirk by email at quirkn@tcnj.edu or by phone at 609-771-2902.
Ineligible Projects
Projects to upgrade lighting fixtures of any kind are NOT eligible for funding. This includes street lighting, stadium lighting, parking lot lighting, and other exterior and interior lighting. Direct Install projects for the replacement of HVAC equipment, boilers, etc. that also include lighting upgrades may be considered as long as they take advantage of applicable incentives.
EV charging station(s) installation projects are NOT eligible for funding. Applicants interested in installing EV charging stations should apply for NJDEP's "It Pay$ to Plug In" program. Details on the NJDEP grant program are available here.
The purchase of electric vehicles (except for Class 4-8 medium and heavy-duty vehicles) is NOT an eligible project. The Sustainable Jersey Alternative Fuel Vehicle Procurement Guide and a resources flyer from NJDEP provide information on purchasing opportunities.
Eligible Expenses
---
Eligible expenses include:
Staff stipends
Consultant or contractor service fees (e.g., for content expertise, marketing and/or technology)
Equipment
Training and educational materials or related expenses
Project supplies
Promotional items - these items should not comprise more than $1,000 of the proposed grant budget. Promotional items include give-aways" such as refillable water bottles, t-shirts, bags, etc., and incentives or awards such as prizes, gift cards, refreshments, etc.
Matching/In-Kind Contributions: Matching or in-kind contributions are encouraged, but not necessary with the exception of state-sponsored or utility-sponsored incentive/grant programs. If your project is eligible for NJCEP, NJDEP, or utility-sponsored energy conservation or energy efficiency funding, you MUST participate in these programs and include the anticipated funding in the project budget. Exact funding amounts do not have to be confirmed at this time; an estimate is fine.
Ineligible Expenses
Ineligible expenses include:
Facilities and administrative (overhead) costs
Reimbursement for a project underway or completed is ineligible. Efforts to be funded by the grant should not start until after grant recipients are announced in mid-January. Planning steps can occur beforehand.
Proposal Evaluation Criteria
Innovativeness & Uniqueness
The proposed action could lead to a new "best practice" and/or is being implemented in a new or unique way.
Impact of Proposed Project
This includes the project type, expected outcomes, and importance to meeting sustainable energy goals.
Influence on Future Activities
The proposed project either augments existing energy initiatives and/or will serve as a catalyst for future efforts.
Likelihood of Success

The action plan:

clearly lists the steps needed to complete the project;
identifies accurate estimates of the time needed to complete each step;
is realistic and likely to be successfully accomplished. The budget is realistic, includes only eligible and reasonable expenses, and leverages incentive funding (where applicable).

Applicant Capacity
The applicant has demonstrated commitment to sustainable practices, leadership capacity through an active and effective green team, and success at managing grant projects in accordance with program requirements.
Partnerships & Leveraging
The proposed effort effectively leverages additional external resources ranging from local foundations to other federal grant programs that may be available for project implementation. Partnerships with community organizations and/or other local government entities is encouraged.
Approximately 50% of the grant funds will be reserved for certified municipalities and school districts with certified schools. Sustainable Jersey reserves the right to reallocate the funding based on the quality and quantity of grant applications received. The selection committee will also consider efforts towards Sustainable Jersey/Sustainable Jersey for Schools certification, project diversity, previous funding, economic need, and the regional distribution of grants throughout the state.
Sponsor Recognition
---
Grant recipients are required to install a sign recognizing The Gardinier Environmental Fund and Sustainable Jersey as the project funders where applicable. Reasonable costs for signage can be included in the project budget.
The Gardinier Environmental Fund and the Sustainable Jersey Grants Program should also be acknowledged on reports, in grant-related programs, activities, events, and on other materials developed with grant funds. Copies of materials documenting this recognition will be required as part of the final grant report.
Please include Sustainable Jersey and Gardinier Environmental Fund logos on materials.