Project Promotion & Sponsor Recognition
---
All grant recipients are required to notify Sustainable Jersey of any project-related ribbon-cutting ceremonies or milestone events so that media outreach can be coordinated with Sustainable Jersey and the Gardinier Environmental Fund.
Grant recipients are required to install a sign indicating that the project was funded by the Gardinier Environmental Fund and the Sustainable Jersey Grants Program if applicable. If installing signage or holding a ribbon cutting ceremony is not applicable to your project, there are other ways to share the success of the project with the rest of the community.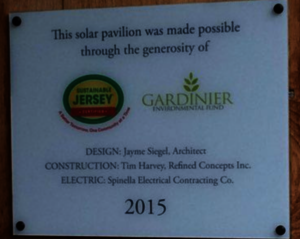 Consider presenting grant accomplishments in public meetings, distributing printed communications, and creating website content and social media postings. Reasonable costs for signage can be included in the project budget. Project funders should also be indicated on reports or other materials developed with grant funds.
Copies of materials documenting this recognition will be required as part of the final grant report. Promotion of the grant should include both the Sustainable Jersey and the the Gardinier Environmental Fund logos. Examples of promotional materials can be found here.