---
The New Jersey Sustainability Summit is a momentous event in our state, drawing change-makers from across the political, private, and public sectors. This exceptional one-day forum spotlights the successes and lessons learned from the people and projects that are helping New Jersey realize a more sustainable future. 2022 Summit attendees walked away with tangible resources and strategies to assist with their own community initiatives. This is your opportunity to do the same. We invite all who are interested to be ready to deepen their understanding and expand their network.

*Breakfast & lunch are included in the cost of registration. Vegetarian, vegan, and gluten-free options will be available.
Registration
$40:
Elected & appointed officials, green team volunteers, and public & nonprofit employees



$125: All other attendees



Participants may pay by check, purchase order, or credit card.

REGISTER
Doors open and breakfast will be available at 8:00am. Program will begin promptly at 9:00am.
Sustainability Sessions
---
Engage in a day of lively discussions around the future of sustainability at sessions providing a chance to learn new skills and strategies for tackling issues you care about most, including expanding the use of renewable energy, transitioning to electric vehicles, making your community more resilient to climate change, ensuring equitable access to resources for all, increasing your reach on social media, & more. Sessions will dig deeper into existing actions and tools from Sustainable Jersey and partner organizations. *CEUs provided for most sessions: CRP, CCFO, CMFO, RMC, QPA, CPWM.
EV Ride & Drive and EV Fleet Showcase
---
Take an electric vehicle (EV) for a spin! Our friends at DEP and the NJ Electric Vehicle Association will be hosting an EV Ride & Drive and EV Showcase with the latest electric vehicles from dealers and owners across the region.
Sustainability Exhibit
---
Bring solutions back to your community! The Sustainability Exhibit is not your typical business expo. It's your opportunity to meet experts and learn about new products hitting the market and available resources and strategies to enhance your sustainability efforts. Stay tuned for a listing of confirmed businesses, state agencies, and nonprofits exhibiting in this year's event.
Network
---
This annual event presents the opportunity for municipal and school district officials and staff, environmental commission and green team members to connect with each other and with state agency, non-profit, academic, and business representatives making change happen. Gain tips for success and potentially join forces on projects to have a more regional impact!
Post-Summit Happy Hour
After the event we will be hosting a cash bar "happy hour" to keep those connections going at Bar Bella's indoor and outdoor lounges. Don't drink? Don't worry. Grab a coffee, snack or mocktail from one of the Bell Works shops and bring it on the patio.


Unique Location - Bell Works
---
We are returning to Bell Works, the historic former Bell Labs building. Located just minutes from the Garden State Parkway (exit 114) and the Hazlet NJ Transit stop. Parking will be available in the blue colored lot on the southeast end of the main building. View the parking map.
The lovely grounds will invite you to take your networking and lunch outdoors for a walk around the lake, or a chill on the patio.
Electric Vehicles
Bring your EV! Six Level 2 charging stations are conveniently located in the Blue (3) and Red (3) lots. These Charge Point chargers cost $1.50 per hour.
Summit Sponsors
---
Thank you to our Summit Sponsors for their support in getting this event off the ground!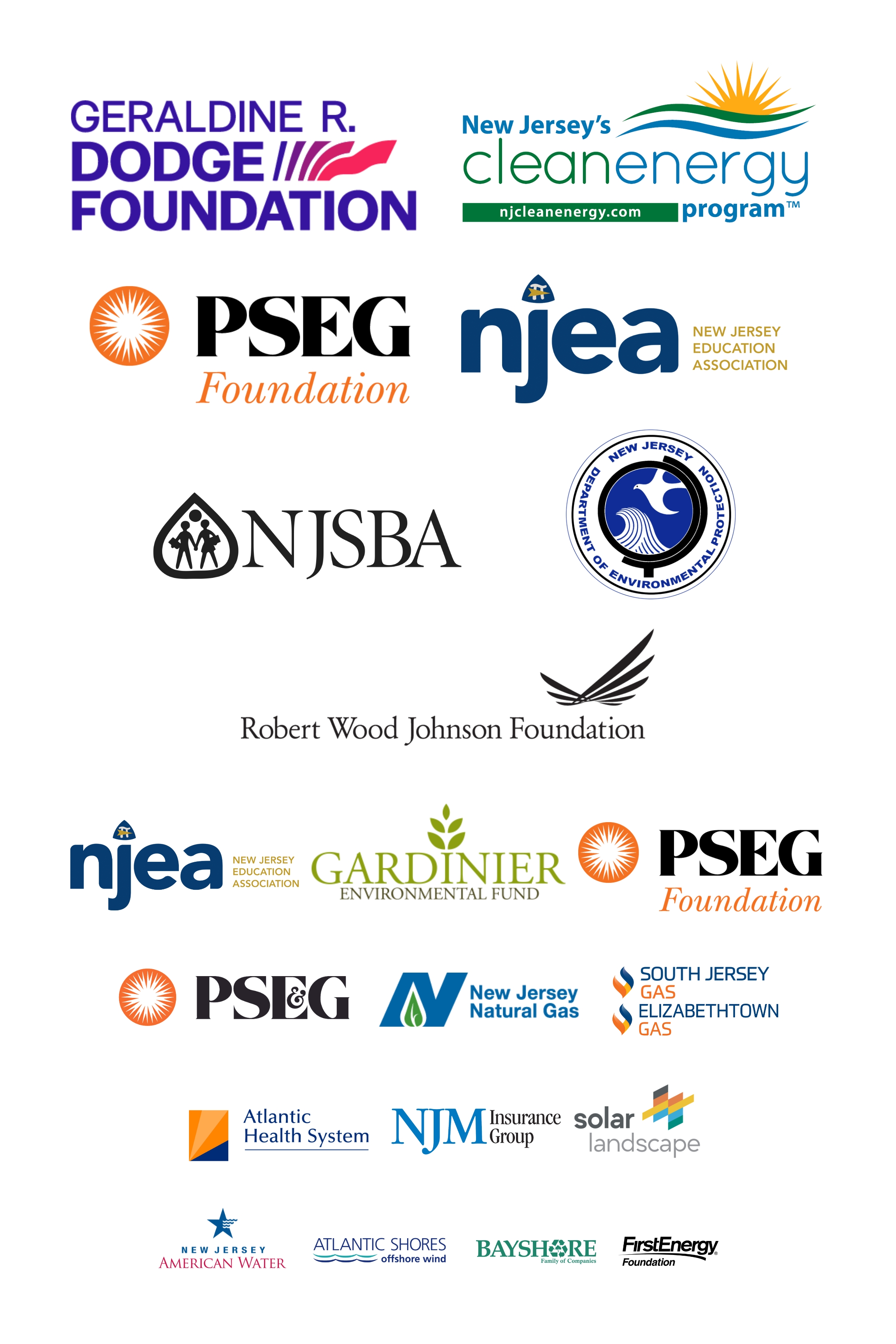 Annual Sponsor and Summit Exhibitor opportunities are available. Contact our Development Manager, Heather Camp, for more information on these exclusive opportunities and benefits at camph@tcnj.edu or 609-771-2831.
Summit Partners
---
AARP New Jersey | Alan M. Voorhees Transportation Center | American Planning Association New Jersey Chapter | Clean Ocean Action | Delaware Valley Regional Planning Commission | Gathering Ground | New Jersey Bike Walk Coalition | New Jersey Clean Cities Coalition | New Jersey Future | New Jersey Health Care Quality Institute | New Jersey Prevention Network | New Jersey School Boards Association | Rutgers Environmental Stewards Program | Rutgers Cooperative Extension - Water Resources Program | The College of New Jersey Sustainability Institute | Together North Jersey