Mayors' Commitment to Climate Action
---
Originally announced at the February 3, 2018 Mayors Climate Summit, mayors from across New Jersey are "going for Gold." Read their pledge to work with Sustainable Jersey on achieving the Gold Star Standard in Energy below.
If your town is silver certified, consult with Sustainable Jersey on a strategy that will put your community on the path towards Gold. Contact Nancy Quirk, Energy Program Manager, 609-771-2902, quirkn@tcnj.edu.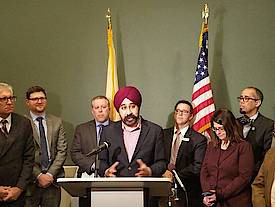 2018 Mayor's Climate Summit Press Conference
Mayor Bhalla, Hoboken City
Pledge from NJ Mayors to Collaborate with Sustainable Jersey and Make a Significant Effort to Achieve the Gold Star Standard in Energy
Addressing climate change will require action at every level, from global to local. Support to address climate change at the local level has never been stronger. In New Jersey alone, roughly 40 municipalities and counting have made a public commitment to reducing greenhouse gas emissions by taking pledges sponsored by the National League of Cities, League of Conservation Voters, or other coalitions of mayors or environmental groups.
Sustainable Jersey partners with municipalities and provides clear guidance, and meaningful resources, to help them achieve their sustainability goals. With the release of the Gold Star Standard in Energy, Sustainable Jersey has created a clear roadmap of practical strategies that can help all municipalities do their part to solve the crisis of global warming.
The Gold Star Standard in Energy is a challenging mix of concrete actions and performance standards. Any municipality that achieves it can say with confidence, and rigorous documentary evidence, that they have done their part and are on a clear trajectory to solve the climate crisis. See the overview of the Gold Star Standard in Energy for more details regarding the components of the standard.
As part of their commitment to serving their constituents, New Jersey, and future generations, the following mayors are publicly committing to collaborate with Sustainable Jersey and make a significant effort to achieve the Gold Star Standard in Energy.
Signed,
Mayor Ravinder Bhalla, Hoboken, NJ
Mayor Christopher Bobbitt, Lawrence Township, NJ

Mayor Chuck Cahn, Cherry Hill Township, NJ

Mayor Victor Deluca, Maplewood Township, NJ

Mayor David Delvecchio, Lambertville, NJ

Mayor Steven Fulop, Jersey City, NJ

Mayor Michael Gonnelli, Secaucus, NJ
Mayot Bruce A. Harris, Chatham Borough, NJ
Mayor Liz Lempert, Princeton NJ
Mayor John C. McCormac, Woodbridge Township, NJ
Mayor Edward Meinhardt, Woodbridge Township, NJ
Mayor Bruce Packer, Glen Rock, NJ
Mayor Kevin Ryan, Verona, NJ