The first quarter of 2017 brought us Coding for Community, Sustainable Jersey's first civic tech competition that paired NJ municipalities with the tech community to develop solutions to sustainability and public engagement issues at the local level.
With over fifty municipal needs submitted into the competition, more than thirty teams began developing solutions to address these local issues using technology. The following are the team solutions submitted into the competition after the two month development period: (Videos available here)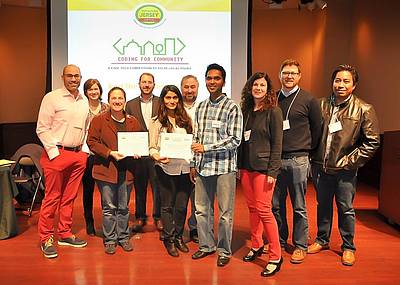 Encore Dev Labs

(Winners)

: Waste of Energy addresses a chronic overheating problem in the South Orange and Maplewood School District school system by collecting temperature data within classrooms and providing teachers a way to report overheating by creating trigger alerts that are sent to school administrators, enabling them to take action. The Township of Maplewood received $2,000 for partnering and supporting the winning team. (Ankur Patel ankur@encoredevlabs.com)
Team Dashability

(Runners Up)

: Data Visualization Dashboard allows green teams to share their progress in the Sustainable Jersey certification process through easy to understand visualizations and ways to push them out through social media. Haddonfield Borough received $1,000 for partnering and supporting this second place team. (Indraneel Purohit indraneelpurohit@gmail.com)
Troop 58

(Honorable Mention for Innovation)

: My Town Hall, skill for Amazon Alexa to answer common questions about the municipality that citizens could use, while reducing the work load on Highland Park's municipal staff (John Fleming jflemingnj@gmail.com)
Hansen Unlimited (Honorable Mention for Presentation): Street Lamp Detection, a wireless network of street lamp sensors for the City of Perth Amboy to help the city detect outages and improve public safety (Aruj Jain arujjain1@gmail.com)
City Bot

(Finalist)

: CityBot, a way for citizens to ask specific questions about their municipality via Facebook Messenger (Mark Hansen x@markthemark.com)
Jersey Boys (Finalist): Jersey Boys, an educational & reporting tool to ease the negative impacts of Jersey City's combined sewer overflow flooding (Jonathon Ende je@seamlessdocs.com )
Maniaco Software (Finalist): City Stories, a platform that allows a community to share its assets through creative digital story telling (Larry Carmant lcarmant@yahoo.com)
PUMA (Finalist): Tree Log, a new version of an interactive tree inventory mobile app developed for the City of Camden (Inga Gaidukova gaidukovai1@montclair.edu)
RADicals (Finalist): Alexandria Online Public Records & Forms developed a way for the Alexandria Township clerk to digitize certain municipal forms and make interactive on the website (Ken Lyle kenlyle@gmail.com)
Trenton Business Portal (Finalist): Trenton Business Hub is an online hub that connects to the City of Trenton's website to give investors and entrepreneurs a place to get the essential information needed to set up a business within the city (Allain Dollete allain.dollete@gmail.com)
Turing Lovelace Hackers (Finalist): Vacant Lots is an online tool for citizens to express interest in the City of Newark's municipal properties for sale (Zay Little designsbyzay@me.com)
UrbanGrit (Finalist):  App East Orange!, an online hub to support initiatives by the East Orange green team, including an online market place for local businesses, planning department documents, green team progress reports & more (Winstina Hughes wh@winstinahughes.com)
Encore Dev Labs: Sustainable Outdoor Maintenance Jobs was created to support Maplewood's overall goal to reduce GHG emissions, including reducing the use of leaf blowers. This platform connects volunteers with jobs needing to be done (Ankur Patel ankur@encoredevlabs.com)
Arts in the Park: Arts in the Park helps Highland Park support local artists beyond their physical art festivals by creating a virtual marketplace for local art goods (Maggie M maggie.tech.nj@gmail.com)
NOTE: While these solutions were developed in response to specific needs submitted into the competition by towns participating in the Sustainable Jersey program, each can be applied to virtually any local community. Contact the team leader if you'd like to explore bringing the solution to your town.
Sponsor
 
Collaborating Partners